To Super Web Designs.com, we're a comprehensive web designing firm established in 2003. We provide "superior website design solutions" that will bring digital, technological and innovation expertise into your business, your organization, and any Federal, Military, or government agency.
We're also a WOSB and a Certified Disadvantage Business Enterprise, whereby we work to meet the advanced technical needs of our private customers of every industry around the world, and to give you a cyber secure, user-friendly, impressive website message that is always clear, specific, and persuasive!
Above all, it's our devoted team of Web Developers and Software Engineers, that demonstrate our core values of serving all of our clients with the highest integrity. Our team actually has more than 15 years of experience in structuring, designing, developing and implementing interactive web applications. Along with, their proven ability to quickly learn and apply the latest technologies, such as: Architecture, Angular 1.6, Node Js, Sequelize, Mongo, DB, Grunt, SCSS to meet your business needs.
Our Services are at the Forefront, Bold and Innovative:
1. On-line Inventory Management Systems (specifically in the automotive remarketing industry & the Web-Based Maritime Vessel Tracking Software.)
2. Website Development (Custom Website Development, PHP Programming, Dreamweaver, & etc.)
3. Website Designing (HTML designing, corporate website design, PSD to XHTML, etc.)
4. Web Programming Services (PHP MySQL Development, PHP Frameworks, Java Script Frameworks, etc.)
5. Mobile Apps Development (iPhone/iPad application, Android, Blackberry, Windows)
6. Documentation (Doxygen software to prepare user manual documentation)
7. Training and User Support (will conduct virtual training sessions as well as create training video)
8. Cyber Security (is the protection of computer systems, networks, hardware, software or electronic data from being compromised. In addition, to providing security plans and to monitor activity.)
(DBE) CERTIFIED #9984
CERTIFICATE OF COMPLETION FOR SBA's ALL SMALL MENTOR-PROTÉGÉ PROGRAM
CERTIFIED SYSTEM FOR AWARD MANAGEMENT (SAM)
NAICS CODES:
• 517810 – All other Telecommunications
• 519290 – Web Search Portals and All Other Information Services
• 541511 – Custom Computer Programming Services
• 541512 – Computer Systems Design Services
• 541519 – Other Computer Related Services

Copyright Registration Number
TXu001203895
U.S.TRADEMARK REGISTRATION NUMBER- 09/2015
4801928
U.S. TRADEMARK SERIAL NUMBER- 10/2022
97606229
Giving Back - "Support A Cause" CONTEST!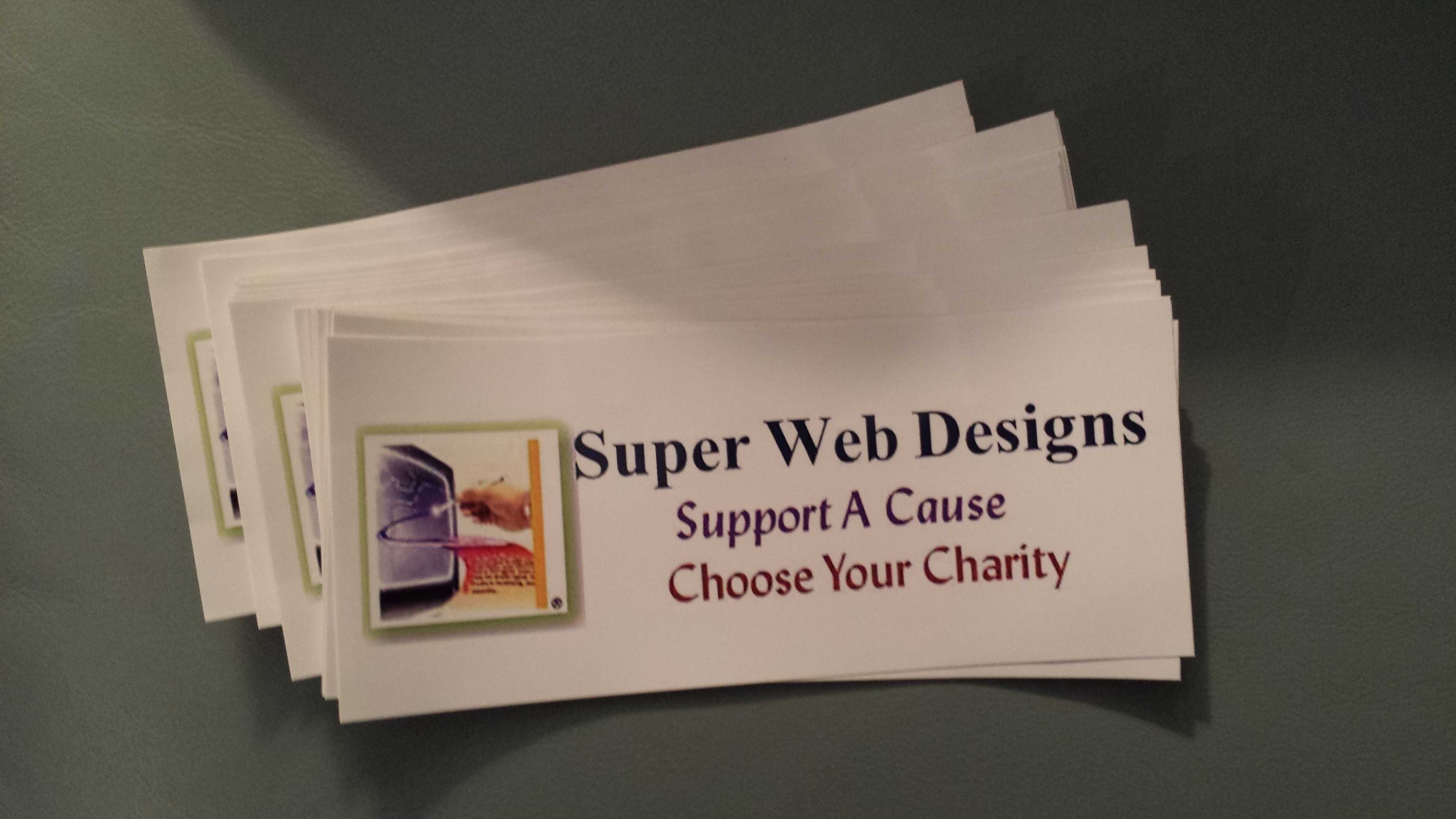 At Super Web Designs we believe in being generous with our time. We also believe in supporting the AMERICAN RED CROSS because of our family's personal experience of losing our entire home due to a fire in April 2010. Fortunately for us, the AMERICAN RED CROSS was first to provide a helping hand. Still, we are honored to use our resources in supporting your cause. Every bumper sticker purchased to "Support A Cause" CONTEST! will receive a vote towards the charity of your choice. Then, at the end of every quarter the charity with the most votes will receive 10% of the profits. We will also DONATE an added 15% of the profits directly to the AMERICAN RED CROSS to help the many families in need of relief!.
Thank You for helping us, to Support A Cause...AND remember to share the "SUPPORT A CAUSE-CONTEST" with family and friends.
The purchase price of a Bumper Sticker is only $5.00 (the listed price does include the shipping & handling fees).

Other SWD Products And Services Include
| | |
| --- | --- |
| • Domain Name Registration and Setup | • Custom Website Design |
| • Website Maintenance | • Business Cards |
| • Brochures | • Post Cards |
| | • Flyers |
| • FREE 1st Time Consultation Session | |
So, click on the headings (Website Designs, Business Cards and eStore Products) listed above, to see what our company can do for you.
Testimonial #1 - "Super Web Designs has provided us with very professional and timely services. We would not hesitate to recommend Super Web Designs to augment or supply your Web solutions."
Paul Card, Marketing Director
Testimonial #2 "I'm really pleased with our website. For us,
Super Web Designs did a great job. And, I certainly recommend their
services".
CEO / Defensive Backpacks.com
Mailing Address
226 Plymouth Ct.
Quakertown, PA 18951
Phone
215·536·8782
Business Hours:
Monday - Friday 9:00 am-5:00 pm (EST)

Leave A Reply:
info@SuperWebDesigns.com